Hydrosphere Research is a state and nationally recognized aquatic toxicity testing laboratory. We provide full bioassay laboratory resources that offer a wide array of services to private and public clients.
The following is a brief summary of our qualifications. Download our full SOQ here (PDF).
Certifications
NELAC accredited aquatic toxicity testing and bioassay lab (first commercial bioassay lab in Florida to receive accreditation)

FDOH certified
Our NELAC Certificate and Analyte sheet is located on our Downloads and Links page.
Customer Service
Hydrosphere Research has retained many of its clients since the lab's inception at CH2M Hill in 1986. We pride ourselves on providing unmatched customer service. Our SOQ contains a partial list of references. Please contact us for a list of references specific to your area or industry.
Services
Hydrosphere Research professionals assist clients in toxicity test design, sample collection, and other toxicity issues throughout the United States. This specialization has aided clients in the public and private sectors in determining the potential impact of project development and in the design of suitable alternatives.
Facilities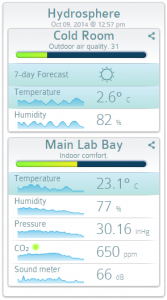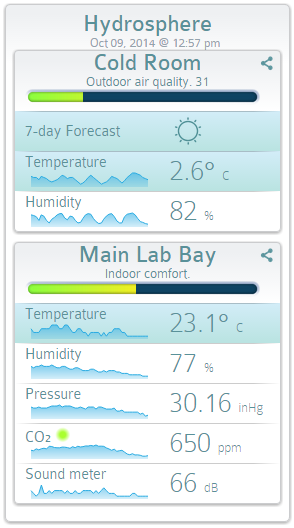 Hydrosphere Research's laboratory and office facilities are located in the
Progress Corporate Park
at 11842 Research Circle, Alachua, Florida, only minutes away from the University of Florida.We have divided our test facilities into separately lighted and climate-controlled sections to accommodate various test conditions or requirements. We also maintain an aquaculture facility separate from the testing labs for a wide range of fresh and saltwater cultures. We follow strict procedures for maintaining lab equipment and each machine or piece of equipment is available in at least duplicate. This helps us provide our clients quick turnaround time and avoid delays related to equipment. We also have an emergency generator installed to maintain our client's tests even during the most inclement weather. Our building and cold room environmental conditions are monitored remotely; should any event occur in our lab, the laboratory staff will be immediately notified.
We
culture all freshwater and most saltwater organisms required for routine toxicity testing.
Hydrosphere has also developed innovative aquaculture techniques for the propagation of many species in both the bioassay, tropical fish and mariculture industries.
Personnel
Hydrosphere Research boasts a highly skilled roster of scientists, engineers and support staff. In addition, our location near one of the nation's leading research centers provides us with easy access to some of the industry's most talented assistance, allowing us the flexibility to increase or decrease staff size for special projects.
Facilities are staffed seven days a week, 365 days a year for toxicity test monitoring, toxicity test initiation, and organism culturing.
We invite you to visit our state-of-the-art facilities in the scientific community at Progress Corporate Park in North Central Florida. To schedule a tour or to find out more about our services and how Hydrosphere Research can help you meet today's environmental standards, call us at 866.375.9004 or use our .